Gualdo
Gualdo
Viale Vittorio Veneto, 4-0733 668 122
The origins of Gualdo are lost in ancient times …
In all probability it was built after the destruction of Urbisaglia and Falerone, when the lords of these cities, to escape the massacre of barbarians, fled to nearby mountains and began to build their castles on high to defend themselves from the incursions of enemies. The name derives from the Lombard word Wald, ie wood, of which the entire area was covered. Castle Gualdo was the fortress of the ancient and powerful house of Brunforte, which decayed in 1319 sold it to the city of Fermo. For issues of border between San Gines Gualdo and there were long periods of conflict, until in 1484, through the intervention of Pope Sixtus IV, the two communities signed a judgment which set the boundaries of the river Salino. The importance of the castle of Gualdo was also determined by the fact that in his area were crossing the border between the diocese of Camerino and Fermo.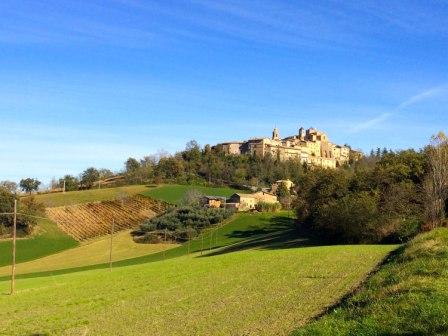 Parish Church of St. Savino: built in the '300 by Azzolini, from amateurs and Vittori of Fermo, was rebuilt in the early 800s. Restored in the 40's, it is in neo-classic-ion, a Greek cross. Inside a beautiful painting attributed to De Magistris and a stone bas-relief of the '600.
House and Library of Romolo Murri: the ground floor are the library and archives of the illustrious character. E 'can see thousands of volumes of great cultural interest.
Viale Vittorio Veneto: summer, with its majestic chestnut trees, is an oasis of freshness and the perfect place for walking, reading, conversations.
The park is the place where the dominant element is the green with a remarkable variety of plants and flowers. A skating rink and numerous games offer children the ideal environment to have fun.
Church of Our Lady of Grace (XII century) inside an elegant fresco by an unknown author. Adjacent is the Franciscan Monastery (XVI century) especially interesting for the cloister, formed by twelve large arches with a central well.