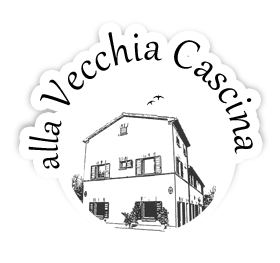 The Agriturismo alla Vecchia Cascina  is located in Corinaldo, one of the most beautiful and famous of this area of ​​the Marche, in the countryside a few miles from the sea of ​​Senigallia.
Agriturismo alla Vecchia Cascina is a '800 ancient farmhouse recently restored, converted from an old farmhouse just resting on a hill just outside the walls of Corinth, a beautiful town in time became famous not only for its beauty but also for being the birthplace of Santa Maria Goretti.
Particular attention is paid to the kitchen, obviously homemade typical of Marche, simple and traditional serving organic food at lunch and dinner, complete with brand new rooms, spacious and cool, and an apartment, a large dining room where you can have also breakfasts and a laundry room. The Agriturismo Alla Vecchia Cascina Restaurant is also open to all throughout the year.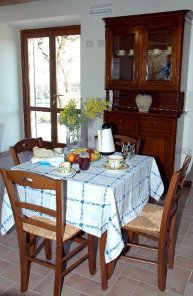 In this beautiful hotel you can savor the true meaning of the holiday in agriturismo, you will find farm animals and fruit trees with vegetables which you can pick up along with the hosts, of course, the 4-legged friends are welcome and will not be charged any extra cost of stay. L 'farm that is also certified organic farm will give you the opportunity to enjoy the fruits of this land.
All rooms are spacious with views of Corinaldo or Marche hills surrounding, you will find new furniture, comfortable beds and above all a peaceful and quiet environment. Homemade breakfasts in the quiet countryside, the sea a few miles, beautiful old villages rich in art and history to visit .... what could be better !? Guests can choose to stay with B & B, Country Residence or using the splendid apartment with all the comforts.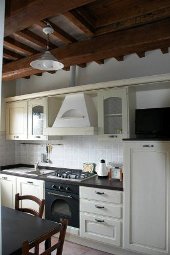 In Corinaldo guests staying in summer will find the traditional Polenta Festival in the Well while in October the famous Halloween party. This is the ideal destination for lovers of Summer Jambore, famous evocation of the '50s and festivals taking place every year in Senigallia.
The Agriturismo alla Vecchia Cascina is ideal for lovers of the Mountain or the Moto, from here you can also easily reach the most beautiful natural places of the Marches such as La Riviera del Conero or the Natural Reserve of the Furlo Gorge.