Situated on a green hill and overlooking the beautiful blue sea, Casa de Campo offers guests environments and unique flavors.


Located in the hills of Montegranaro, Casa de Campo is the perfect place to enjoy fully the beauty and uniqueness of the environment, the hospitality and cuisine of our region. The rooms present in the farm Casa de Campo are completely and tastefully furnished as well as equipped with every comfort to make your unique and special each time. The various rooms have a bathroom, TV and air conditioning.
In summer you can also enjoy the outdoor pool and terrace with panoramic views over the wonderful countryside in the best way to spend your every moment of relaxation.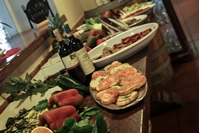 The focal point of the farm Casa de Campo is then given by the restaurant that offers delicious dishes of the Marche where to lord it is the freshness of the merchandise and the imagination in proposing the menu. Among the tasty dishes on the menu are a pappardelle with meat sauce goose, suckling pig with potatoes and Italian antipasti platter with cold cuts and croutons.
The freshness of products, good food, comfortable rooms and good hospitality accompanied by a hospitality that will make you feel at home, makes the Farm Casa de Campo is the perfect place to spend your relaxing moments, having fun and enjoying fully the beauty and uniqueness of our beautiful land.