Surrounded by the beautiful countryside of San Costanzo and close to the sea you can live in this farm an unforgettable stay.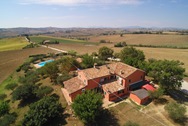 Located in the hills of the village of San Costanzo, the Agriturismo Divin Amore offers its guests every comfort so that you can make the most of your vacation. The Agriturismo Divin Amore has nine rooms, three triples and six elegantly furnished double rooms, all air conditioned and have private bathroom, minibar and TV.
There is also a swimming pool where you can relax and enjoy the silence of unspoiled nature. Guests can enjoy delicious home-style cuisine in this restaurant in the farm as well as enjoy the taste of the Marche countryside thanks to the oil produced by the farm.

Agriturismo Divin Amore is located in an oasis of peace where you can take beautiful walks or trips to the discovery of a unique place and you will never forget!