A structure immersed in the wonderful countryside and kissed by the Metauro river through which you can spend a relaxing holiday.

Located in Pesaro Urbino, Casa Oliva is not just a beautiful Residence, but also a relaxing spa. The whole structure has 25 apartments, consisting of rooms, junior suites and apartments. Oliva house is distinguished from other facilities for its unique location to say the least; It rises from the interior of a medieval village, full of charm and that certainly makes this structure unique.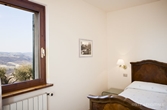 All rooms at the residence are elegantly furnished and with a breathtaking panoramic view, are equipped with every comfort in order to meet your every expectation. Like the rooms, even the suites are furnished with style and elegance and are still available for the couples who wish to celebrate the happiest day of their life in a truly unique place. Casa Oliva houses inside an elegant and refined restaurant where you can taste unique dishes that respect tradition by using a single raw material.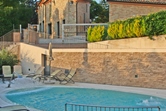 A Casa Oliva surprises never end, on the inside it also has a wonderful spa with sauna, steam bath, oxygen therapy, relaxation area and nature trails. Casa Oliva is a truly unique place of elegance, professionalism and beauty thanks to which you can experience an intimate vacation and engaging, even with your four-legged friends!