The Fenella Holiday House is  located in Caudino, not far from Arcevia. It's an ideal destination for nature lovers and for those are seeking a vacation out of the ordinary life, nestled in a true harmony of the senses.

Caudino is one of the oldest castles of Rocca Contrada,

ancient and important bulwark for the defense of the territory where it was fought a memorable battle between the forces of Guelph and Ghibelline located at west of Arcevia, a famous and characteristic center of Marche.

Right here, in the heart of the beautiful nature of the Marche Region, re-born The Fenella Holiday House. The property was converted from an old water mill of 1200 abandoned and surrounded by completely unspoilt nature;
Rene and his wife Jeannette will be pleased to welcome you to this wonderful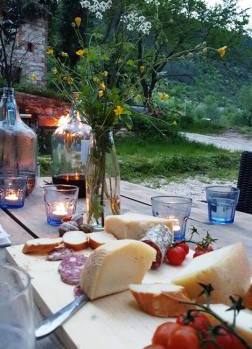 house where they put all their love and  passion to restore it and give a new life at this wonderfull place. The Fenella Holiday House has two large and comfortable apartments which can accommodate up to 6 people and are tastefully and elegantly furnished in the best way possible by combining modernity and tradition. A kitchen of 8mq is well at your disposal, but you can also enjoy the service restaurant if you want.

The Fenella Holiday House is a real magical place  given by the wonderful place which is on the edge of the magnificent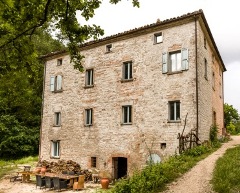 Natural Park of the Red Gorge where you can hike and soak in the beauty of a unique nature. The Fenella also, is only 35 km from the Adriatic coast, just 45 minutes from the airport of Ancona.
Inside the estate of 13 hectares you will find a stream with a great falls where able to refresh during the summer ... demonstrating that nature will be your traveling companion during your holiday in La Fenella Caudino.
Obviously, the 4-legged friends are welcome!