Located in the heart of Carassai, just 18 km from the beautiful city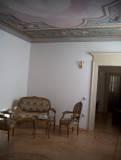 of San Benedetto del Tronto, Palazzo Polini Fioretti is a comfortable and nice accommodation can enjoy an authentic living of the past.
Located in the center of Carassai in the heart of Val d 'Aso, the Garden of the Marches, Palazzo Polini Fioretti is the ideal place for anyone who wants to spend special moments of tranquility away from the stresses of everyday life. Adriana, the hostess, is at your disposal to make you feel not so much guests as friends, and will be able to advise you on all that this' magic corner of the Marche can offer.

This beautiful historic home has two beautiful rooms tastefully furnished to meet the demands of each guest. The apartment is rented obviously "in full" is ideal for a group of 5-6 people or a family, it has a kitchenette, a beautiful bathroom, sheets, towels, heating and wi-fi in this 'entire structure. Palazzo Polini Appartaments has also a beautiful library where you can fully enjoy your relaxing pastime of reading a good book.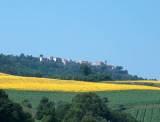 Palazzo Polini Appartaments has arrangements with a rental bike, great way for those wishing to visit the beautiful neighboring places. Thanks to the strategic position in which it is located, you can reach the beautiful castles and hamlets of this area always the pulsating heart of the Marche.
Spend your days exploring the wonders of the small towns of  Petritoli, Ortezzano, Montalto delle Marche rich in history and tradition. In short, the kind of vacation spot for those who love to immerse themselves in an atmosphere of times to discover the authentic territories and traditions still unchanged by time.
PRICES:

The whole apartment is made available at the price of:
€ 70.00 for a day minimum of 3 days (in the period from 01/09 - to 31/05)
€ 90.00 for a day minimum of 3 days (in the period from 01/06 - 31/08)