Surrounded by breathtaking views ranging from some of the most beautiful and evocative of our region, miss the wonder of nature and hospitality able to make you feel at home.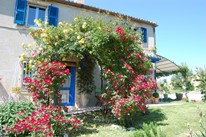 Among the beautiful Piceno hills of Monterubbiano stands Vento di Rose B & B, a completely renovated farmhouse on your arrival and for the duration of your stay will give you a reception that you will remember for a long time. You will be welcomed in three rooms completely and finely decorated, divided into three types depending on the picturesque views overlooked. Each room is embellished with some details like fabrics and antique furniture as well as terracotta lamps. The rooms are all equipped with private bathroom with shower or bath, entrance, heating and natural soaps made by hand.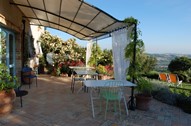 In addition to these romantic rooms, each guest of the Vento di Rose B&B will have at their disposal a MaxiJacuzzi Spa located on a scenic terrace where you can enjoy a unique relaxation; a large garden with deck chairs, hammocks, chairs and tables where you can be lulled by a gentle breeze; a large porch and a romantic pergola where you will enjoy a breathtaking view; a mountain bike service with which you will have the chance to visit the beautiful places that surround the structure; a fully equipped kitchen so you can prepare delicious dinners while watching the sunset on the Sibillini Mountains; a small library in which several books are kept on our beautiful region and finally a private parking as well as to meet your every need.
A unique place where you will be rocked from beginning to end and that you can never forget.