La Cerasa is a beautiful B & B located in the middle of nature of the Marche newly built and very well cared for.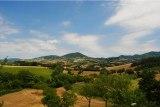 The b & b is located in the resort village of Smerillo Ceresola in Fabriano, a few km from the city center. The structure is divided into two distinct parts and all these rooms are well-maintained in every detail and equipped with special finishes on colored walls all accompanied by an excellent and warm atmosphere. Each room also has a private bathroom, TV and heating to make it even more comfortable.
Nestled in the beautiful hills, the B & B La Cerasa can admire the beauty of the landscape as well as listen to the sounds made by animals that this beautiful nature has to offer.
The breakfast will be served each morning will be unique because it is rich of great products including you will have the opportunity to taste typical products of our region such as meats and cheeses all immersed in an oasis of peace and relaxation.
Besides the magnificent breakfast will be offered included numerous services including reservations at various restaurants, the supply of the keys of the structure to act with the utmost freedom and privacy, free wi-fi, swimming pool unlimited, unlimited use of the barbecue, are allowed pets and you can use the kitchen at the facility.
Excellent services as excellent will welcome you'll find in this beautiful B & B where you will be surrounded by the green of our beautiful hills.