A magnificent Relais located in the beautiful village of Castelraimondo province of Macerata where sophistication, professionalism and beauty reign supreme.
Located in the heart of the Marche region, the Relais Borgo Lanciano is one of the structures of higher level of brands that carry high the banner of our region. Surrounded by rolling hills and magnificent beauty of the Monti Sibillini, this beautiful 4-star wellness hotel is the fine and refined renovation of old farmhouses.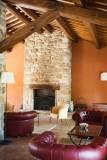 Borgo Lanciano Relais is widespread, ie services and the rooms are located in different buildings; this beautiful and equally ambitious architectural project led to the creation of a location of the highest quality standard that houses inside rooms and suites extremely elegant and comfortable.
From this careful and clever restoration work of the ancient village have been obtained 49 rooms and suites each of which organized and differentiated from the others thanks to the environment finely and elegantly furnished. Arrived in their room in fact, each customer will notice the continuity between inside and outside that characterizes all the rooms thanks to the predominance of warm colors that thanks to their hospitality are perfectly integrated with the beautiful natural surroundings.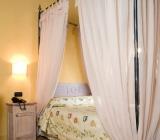 All rooms are equipped with all modern comforts: air conditioning, shower, complimentary toiletries, Mini Bar, desk, private bathroom with hairdryer, plasma TV, telephone and Internet WI-FI. Some of the suites also have direct access to the beautiful spa located within the village. From these beautiful environment you can enjoy a breathtaking view, by the unique beauty of the green hills to the majestic Sibillini that nights in the clearest blend with a starry sky nothing short of unique.

Stay in a wonderful hotel you will also have the opportunity to taste unique products in the restaurant of the village, elegant and welcoming as the entire structure and offering special tasting of the products of the Marche prepared with culinary techniques and unique that will go perfectly with the raw materials local and absolute top quality.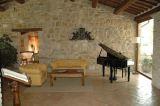 The Borgo Lanciano Relais is also a unique place to play your conferences, meetings, receptions but especially where seal the dream of your most beautiful day, your wedding. Thanks to the high professionalism, quality of services, the highest comfort accompanied by a breathtaking scenic beauty to say the least, this unique resort will do is give you unique and unforgettable moments.