The beautiful Casa Ercole Country House,it's a peaceful haven just 20 minutes from the Adriatic coast, and the wide, welcoming beaches of Senigallia.
Casa Ercole Country House it's a true oasis of relax, the property has 7 rooms decorated with sophistication that fully reflect,
as all the Villa, the creative style of Ercole Moroni, the florist to the stars, without forgetting the true nature and the authentic traditions that characterize this area of the Marche Region, creating in this way an unique, relaxing, elegant and surrounded by nature. Casa Ercole Country House is nestled on a hill, five minutes' drive from the historic and picturesque medieval town of Belvedere Ostrense. It is a peaceful haven just 15 minutes from the coast, and the wide, welcoming beaches of Senigallia on the Adriatic coast.
Casa Ercole Country House has five en-suite bedrooms in total sleeping up to 12 people comfortably. If needed it can be extended adding the other wing of the villa, where there are another two double bedrooms sleeping four people sharing a bathroom. 
The house with a total floor space of 550 square meters has a large lounge area located on the ground floor, large spacious living area with sofas including satellite TV, DVD and wireless internet.The kitchen is fully equipped, including dishwasher and fridge.
Downstairs are the enormous living room with all amenities and the professional kitchen where the owner (a very good chef), on request will prepare a delicious lunch or dinner, accompanied by good wines, water, coffee and digestive. Everything is possible on request. 
Casa Ercole Country House retains a rustic charm of its own, while still incorporating the latest creature comforts including satellite TV and DVD player, CD players and internet link.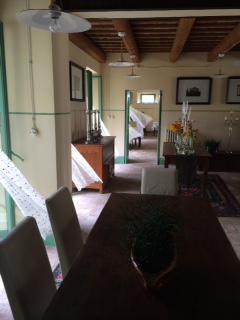 A great and large pool , with diving board, plus a poolside lounge area for relaxing, BBQ-ing and sunbathing, plus a fantastic, privately placed Jacuzzi. It is the ideal location for cookery and art courses, flower demonstrations, wine-tastings, weddings and corporate functions and events. But also just for a one night experience of the best B&B.