Surrounded by pristine nature and surrounded by a medieval town rich in history where you can taste the love for the land and its fruits.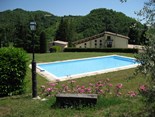 Located in Matelica at the foot of Mount San Vicino, Casa Rastia is a cozy B & B where you will stay in comfortable and hospitable, enjoy delicious typical of our region and live a 360 ° made of even cultural beauty. Around Casa Rastia fact is an ancient medieval village that you can visit so living a unique and fascinating experience.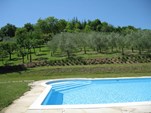 Casa Rastia houses inside 4 apartments, 4 bedrooms and the master house called "The dodgers". Every single room of the hotel is furnished in detail and responds to your every need being provided with all services including furniture for the kitchen, washing machine, heating, wi-fi and many more. You can also relax in the beautiful outdoor swimming pool surrounded by a charming nature and magnificent, and you can also enjoy delicious traditional dishes directly from the property.
One that you can live at Casa Rastia will be a unique holiday where you can enjoy and observe with your own eyes the love and passion that are used in every single element that will contribute every day to make you live an unforgettable experience.