5 km from the coast and 30 from Monti Sibillini in the Contrada Val d'Aso area of ​​Lapedona, we find the Casa Vecchia farmhouse, located on a hill in the middle of the green of the orchards.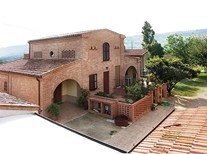 The structure is an old sharecropper dwelling, in the main building, on the ground floor we find the restaurant, the reception, the cellar and the tavern.
On the first floor a common room with fireplace and some rooms, on the second other rooms.
Other rooms are present in adjacent buildings.
For the guests of the structure there is a restaurant, where dishes of the ancient Marche tradition are prepared by hand.
Other services available to customers, a beautiful swimming pool overlooking the Adriatic, the Wi-Fi area, bowling alley and ping-pong, playground for children.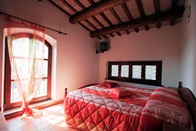 We also organize visits to some typical sharecropping farms.
At Casa Vecchia, you will find jams, oil, wine, honey and many other products deriving from this very hospitable land.
So do not miss the chance to give yourself a holiday in this oasis of peace on a hill just a few steps from the sea.