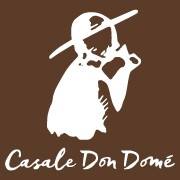 A beautiful country house located in San Lorenzo in Campo, the heart of the Marche Region, nesteled in the authenticity of our wonderful Region.
Located in beautiful countryside of San Lorenzo in Campo, Casale Don Domè well as being a comfortable farmhouse it has within it a riding horses school and a restaurant to cater for all your pleasure as well as possible. The house has five beautiful rooms with private bathroom and three apartments which vary in size each with private entrance and beautifully furnished with the presence of a kitchenette, refrigerator and TV to make unique every moments.
Besides the beautiful rooms, the Casale Don Domè has a cozy restaurant where you can enjoy delicious products of the Marche region while enjoying your meal not only inside but also outside admiring the beautiful surrounding countryside. The house also has a large swimming pool completely surrounded by nature where you can relaxing your time.
The Riding School professionally managed with the help of Royal Oak Ranch, provides services of ippoturismo with horse boarding. The school performs Federal Riding lessons for beginners and organizes guided horseback rides for young and old.
Casale Don Domè house is the perfect place for young and old, unique for its hospitality, professionalism and beauty thanks to which you can get some wonderful and unforgettable!