Casolare Re Sole lies 15 miles from the coast and 25 miles from the Monte Sibillini mountains. Mid our own olive trees and vineyard we want our guests to have an unforgettable holiday in the Italian countryside. Whether you want a day on the beach, cooking classes or wine tasting at a local wine house, everything is possible.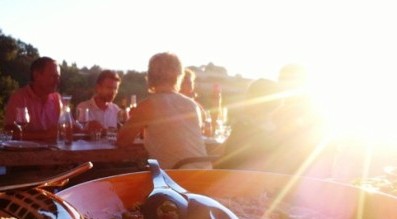 We want to share with our guests what Le Marche has to offer; great food and wine, very friendly people, magnificent nature, beaches and a dynamic living culture. 
Our farmhouse has 2 B&B rooms and 1 mini-apartment. The designer rooms are stylishly and comfortably appointed, containing: double box-spring beds and a separate dressing room, with large and luxurious bathrooms. Each room has television, DVD player and wifi internet. The mini-apartment has a luxurious kitchen.
Each room has it's own place to sit to enjoy the sultry Italian evenings, overlooking the rolling hills to a different sunset every evening.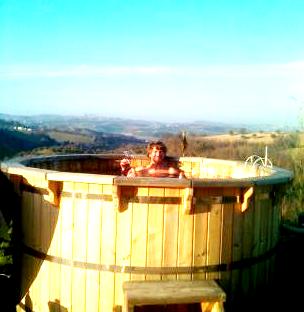 Besides the rooms, there is also the possibility to camp outside. We have 8 camping places, situated between our olive trees and vineyards. They are all spacious and have spectacular views. We've realized a roofed over outside lounging area, to enjoy a good glass of wine at the fireplace and to look at the 360⁰ views over the country side of Le Marche. We've also put in an outside kitchen for private use), a self-service mini-bar, long dining tables and a fireplace with seating area. Furthermore our grounds are perfect for a nice walk and to enjoy the tranquility and nature.
We don't have a swimming pool (yet), buts it is possible to use the pool at an agriturismo close by. And for who prefers to go to the beach we have reserved 6 sun loungers at the charming beach of Pedaso, where mostly locals come. The region of Marche is situated in central Italy between the Apennine mountains and the Adriatic coast. It consists of 5 provinces; Pesaro-Urbino, Ancona, Macerata, Fermo and Ascoli-Piceno.