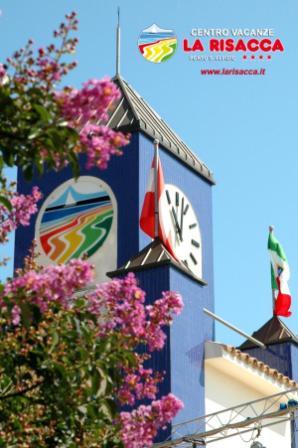 The Holiday Center La Risacca is located in Fonte di Mare, directly overlooking the Adriatic Sea of ​​Porto Sant'Elpidio, a quiet city in a strategic position to quickly reach the most beautiful wonders of the region.
With more than 170 facilities the Holiday Center La Risacca offers a wide choice between Masonry Villages, Casemobili, Safari and Caravan Tents, studios, two-room, three-room and four-room apartments, with or without air conditioning, to meet everyone's needs.
Services that are: Animation, Music and entertainment nights, Discotheque Outdoor, Mini Club, Sports tournaments, Five-a-side football, Tennis, Basketball, Volleyball, Ping Pong, Bowls, Group gymnastics and aerobics lessons, Playground for children in the pinewood, Aquapark, Trampolines, Sports Courses, Beach or Free Beach Service, Bicycle Rental, Automatic Laundry, Ironing Room, Tours and Excursions, Camper Service, Bar, Restaurant, Pizzeria, Self Service, Take away food, Market, Tobacco, Newspapers 
With free private parking, Centro Vacanze La Risacca is a 5-minute drive from Civitanova Marche. In several facilities it is also possible to stay with a small size (max 15 kg).