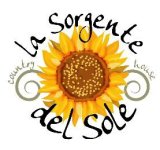 The Sorgente del Sole Country House is surrounded by green hills, in Stigliano about 6 km from San Severino Marche.
In the stillness of nature, where you can gaze out to the horizon to discover the nearby castles, or the picturesque villages of the country, the sunrises and sunsets postcard when the sun is hiding among the endless fields of sunflowers.
Simona is ready to welcome in this beautiful structure ideal for those looking to escape the hustle of daily life, from the hectic pace of the city, from the noise at any time of day. Here you will breathe the genuine concept of "Feel at Home."
The Sorgente del Sole Country House you will find only a lot of green and silence all around you, and the singing of the birds will be your alarm clock in the morning. 
Accommodation in double or triple rooms all with TV, furnished in a simple style, where each room has available a private bathroom with hairdryer and toiletries. A "small suite" with a large terrace facing the valley, where you can enjoy a wonderful view, while a delicious breakfast or after a relaxing bath in the Jacuzzi.
Inside the Sorgente del Sole Country House  will find the famous restaurant "Da Marisa" family run become over the years from the historic tavern, to cozy restaurant also suitable for ceremonies.
Here the tradition for the Marche cuisine is king, where the typical joins the old recipes handed down over the years and generations and proposals today in a modern way by Mrs. Marisa. Obviously grilled meats cured meats and products strictly "homemade" are the specialty of the house, and you'll also have the opportunity to directly buy local products like wine and oil in the reserve "Ancient Land Round" of San Severino Marche.
We are in the valley of Potenza, 26 km from Macerata's here you can easily reach Tolentino, and Camerino Treia or Cingoli. The beach at Civitanova is about an hour's drive.
Ideal especially for nature lovers, with the possibility of mountain-biking, hiking, off-road etc ...