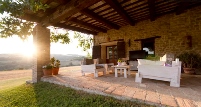 Located in Tavoleto, The Bumbarelle Country Bed & Breakfast is a structure consisting of a perfect unique setting for the most important occasions such as birthdays, parties and receptions, but also beautiful wedding in the countryside. A truly unique place that will make your event even more special thanks to the immensity of the natural surroundings that will make the authentic and unforgettable atmosphere.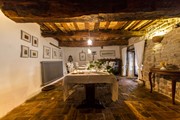 The Bumbarelle Country Bed & Breakfast offers its guests many amenities including a spacious double bedroom and one with the addition of a bed for one and a half, an abundant and excellent breakfast can be enjoyed every morning, a large porch where you can dine surrounded by nature, and of course a wonderful and large garden where you can organize your holidays for the most important occasions.
A place nothing short of perfect for a reception in the heart of the beautiful countryside of the Marches, an elegant wedding, a fun birthday parties and beautiful country or country-chic ... by staying in this magnificent structure will contribute to making your every moment even more unique and unforgettable!