A beautiful and comfortable Residence where you can savor a full flavors and the beauty of the land of our magnificent region.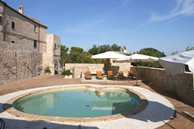 Located in the historic center of the town of Monteprandone, Residence Borgo Da Mare enjoys a privileged position directly facing the Adriatic Sea in San Benedetto del Tronto, which is a few km from the beautiful National Park of Monti Sibillini and Laga.
Residence Borgo Da Mare you will find a unique, the residence features 11 houses and two double rooms, a relaxation room, fitness center, billiards room, large garden with the presence of a spa pool and a piano bar where you can enjoy a 'abundant and excellent breakfast Bed & Breakfast served at the poolside. The style that you will find the Residence Borgo Da Mare is a cozy style and exclusive typical of a real period home.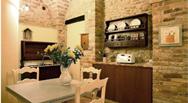 In 11 houses and the two chambers will then an elegant and comfortable where you can live the most of your relaxation. The holiday homes and the two rooms have two TV satellite, air conditioning, Wi-Fi service, bed linen and safe. All rooms are elegantly furnished and relaxation that you can enjoy in the Residence Borgo Da Mare is nothing short of unique thanks to the spa but also the availability of umbrellas and chairs at the best chalet of the beach of San Benedetto del Tronto and Porto d'Ascoli.
Thanks to the strategic position in which is located the Residence, which perfectly combines the sea and the mountains, you can enjoy wonderful excursions into the splendid Adriatic Sea or the nearby Parco dei Monti Sibillini and Laga including mountain biking, guided walks in the woods , diving tours, water sports, fishing and many other activities.
Residence Borgo Da Mare is the perfect destination for a holiday of relaxation and fun tasting in the best way the exclusivity and beauty of this magnificent area.