The restaurant Da Giacomo is a welcoming family-run restaurant is located in the center of Porto Recanati close to the sea.
The kitchen of the restaurant is inspired by James and that of the local culinary tradition of the Marche, offering delicious seafood specialties and meat menu. In this cozy restaurant you can enjoy wonderful fish dishes that will surely satisfy even the most discerning palates.
Pasta dishes flavored with authentic sauces fish, crustaceans and molluscs. Main dishes of fresh local seafood can be enjoyed in the oven, salt or fried and grilled. By reservation you can taste the fish soup portorecanatese not forgetting the delicious homemade cakes, frozen desserts and sorbets.
The Ristoran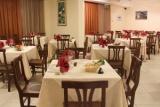 te da Giacomo has a room for various ceremonies and business dinners. To celebrate in the best way your wedding the restaurant Da Giacomo offers a "Honeymoon" with personalized menus. The maximum capacity of the restaurant is 180 people and for those who do not eat fish will be offered a menu of meat.
Nor should we forget the presence of a new corner bar where to make the main protagonist is warm and elegant atmosphere perfect for relaxing moments to spend with friends or family with breakfast and cocktails very tasty. The local then offers its guests the opportunity to take advantage of free parking for both cars and for buses.
A cozy and comfortable place where you will not be disappointed for sure!