In the heart of Montefeltro, a few km from Urbino Urbino Resort, one of a kind. A paradise surrounded by a magical atmosphere.
Nest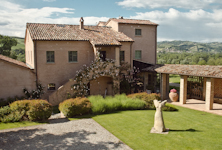 led in the gentle natural spectacle of the 360 ​​hectares of organic farming techniques that houses inside, the Resort is the ideal place for a journey through nature, culture and wellness.
Urbino Resort houses inside 6 manor houses consist of 32 units between rooms and suites that collect a total of 85 beds.
Every single room in this resort is unique because they are all furnished in detail because of the details that make up that are exclusive and elegant. In each unit you will find a unique comfort as also from technological services offered to further improve your well-being. Among the services we find the air conditioning, wireless Internet access, telephone, minibar, satellite TV and plasma TV.
Urbino Resort offers all its guests a careful and valuable relaxation ar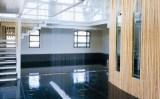 ea where guests can choose between various treatments and wellness paths. Like the rooms, the Wellness Center is also studied in detail since its construction, this center is in fact built in a former barn with natural materials and large windows that overlook a unique landscape in the heart of the Marche thanks to beautiful hills of Montefeltro.
This magnificent Resort among other services also offers big spaces used as exhibition space or conferences; thus Urbino Resort becomes a destination not only of well-being and relaxation but also for business.
Urbino Resort houses inside a Ecospaccio, furnished interiors and unique thanks to the nineteenth-century hand-painted beliefs that come from an ancient herbal Urbino. In this unique and picturesque place you can buy organic honey, oil, various wines, plus a wide range of gastronomic products of the area made with materials of the highest quality. In addition to food products you buy nell'Ecospaccio natural cosmetics, wellness products without neglecting the fine selection of local crafts.
Inside the farm, organic growing is the small rural village dating back to the eighteenth century now carefully and expertly restored, all to make it even more unique, evocative and unforgettable your stay in this magnificent place that exalts in the best way unique beauty that characterizes our Region.