A cozy and comfortable guesthouse in the heart of Loreto, a wonderful city and the cradle of one of the most important shrines in Italy and around the world.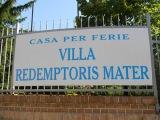 Villa Redemptoris Mater is a religious house of hospitality located in the vicinity of the Shrine of Loreto. This cozy guesthouse run by the Sisters of Jesus the Redeemer is the perfect venue for meetings, retreats, pilgrimages but also stay at sea which is only 3 km or interesting cultural visit to our region.
Villa Redemptoris Mater houses inside 82 beds in 35 double rooms and 12 single rooms each with en suite facilities. What you live in Loreto and in this structure is a real spiritual experience thanks to the presence of a chapel inside, a privileged place to live moments of reflection and prayer in an atmosphere of silence and contemplation.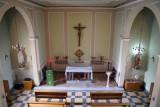 In addition to the internal Chapel, Villa Redemptoris Mater offers its guests a wealth of services including: an outdoor area for tents, wi-fi, private parking for buses and cars, conference and meeting rooms, rooms for birthdays and parties, a TV room, a restaurant for groups, lift, wheelchair accessible, garden, park, ample space for outdoor activities and the possibility of adding rooms tv surcharge on the price.
This cozy hotel that will cater to your every expectation and the beautiful city of Loreto represent a real place of peace as well as extraordinarily beautiful so that the same Pope John Paul II called it "a stop of peace for the soul ... an awakening for those seeking the truth and the meaning of life. "