Ascoli Piceno
Ascoli Piceno is one of the monumental cities of Italy : its historic center is built entirely of travertine , a sedimentary rock extracted from quarries in the area, and has as its focus the Renaissance Piazza del Popolo where you will find some of the most important buildings in the such as the palace of the Captains , the historic Caffè Meletti and the church of San Francesco.
THE CITY ' OF ONE HUNDRED TOWERS
Other core city is the urban space of square Arringo , the oldest square of Ascoli , where rise the medieval Baptistery of San Giovanni , the cathedral of St. Emidio , which encloses the crypt also dedicated to the patron saint . There are also the Bishop's Palace , the palace dell'Arengo , home of the civic art gallery and some municipal offices.
Not only the streets , but the streets and alleys of the medieval footprint genuinely help to characterize the historic center as a way of Praetorian , via Solestà , via delle Stelle, Soderini street , via the Trivium , old thistle and Corso Mazzini , decumanus maximus , crossing from west to east the city center.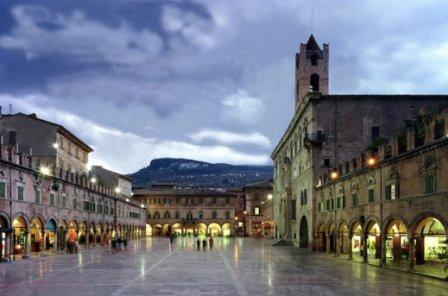 Among the monuments are to be remembered : the Roman bridge Solestà , one of the few in Italy , also visited inside the ruins of the Roman theater , the caves of the Annunciation, mammoth building of the Roman period , the Fortezza Pia and the Forte Malatesta the building with the tower of Lombard Ercolani , one of the few surviving towers of the dozens that appear in medieval chronicles , in memory of which Ascoli has the nickname " City of a Hundred Spires ."
Worthy of mention are also small temples dedicated to the patron such as: Sant'Emidio Caves and Sant'Emidio Red and also the church of Santi Vincenzo e Anastasio a characteristic façade is divided into panes.
Near the city is the fortress of Castel Trosino , an ancient Lombard settlement overlooking the river Castellano , in which at the end of the nineteenth century it was discovered one of the richest necropolis in Italy , whose precious finds are now scattered in various museums in around the world.
COMBINATION OF RESOURCES
Capital of an area predominantly agro- pastoral vocation , Ascoli Piceno has added in recent decades the traditional functions of the agricultural market (wine ) and administrative center , a remarkable and well-differentiated industrial development accompanied by an extension of services and a good exploitation of tourism resources, which has resulted in the formation of a modern industrial area along the highway piceno – Aprutina .
The industries are small to medium – small, but well-rooted in the export flows ; the most developed are those mechanical, chemical , plastics , paper , ceramics (bricks ) and food (pasta) . Decline in the silk industry , who once worked cocoons produced in the region.
TRA is to report the annual fair avicunicola and fur animals . The service sector accounts for most of the working population .
* Ascoli is the homeland of Pope Nicholas IV and the poet and philosopher Francesco Stabili , called Cecco d'Ascoli .