Castel di Lama
Castel di Lama
Via Carrafo, 22-0736 818701
A human presence is signaled from the Neolithic culture until that picena preceding the arrival of the Romans. Castel di Lama gravitated city of Ascoli. Like today, even in the past, settlements were kind of poor consists mainly of rustic houses and also some villa. The oldest of the Castle of the blade is shown in Volume IV of "Historie Asculanae" of Antonelli (1673) which says that Francis Walter Odoardi, around 1311, kept Castel di Lama. In 1543 he became independent and in 1749 he obtained an erection of the Marquis Odoardi. In any event the evidence of Castel di Lama as a political and social dating back to 1543, when it was recognized as the castle of the second degree of the State of Ascoli. Finally, with the aggregation of the Villas was built in town in 1818.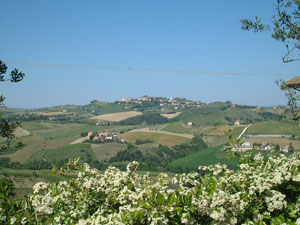 Parish church of Santa Maria in Mignano in the hamlet of Piattoni is neoclassical baroque. It was amplified in 1554 and transformed in the late eighteenth century.
Church Sanctuary of Our Lady of the Angels (1693/1695) inside decorations in low relief stucco attributed Giosaffatti. Oratorio di San Pancrazio with elegant bell-century terracotta. Noteworthy also some rural buildings, particularly in the district of Forcella a manor house in 1500.
The territory of Castel di Lama consists of hills especially prone to the vine, ventilated and prepared to light and heat of the sun. The current extension of the vineyards is a third of the area planted with vines carefully selected, Sangiovese and Trebbiano. The modern cellars of skilled winemakers ensure the utmost care in the harvest and the vinification producing excellent wines for their purity it has become known in Italy and abroad.
The local cuisine is authentic and traditional, made of natural foods, mostly from the local production of the Tronto valley full of smells and flavors. The traditional dishes are various homemade salami, timbale, cannelloni, homemade noodles, lamb, pork, tripe, rabbits, poultry, mixed fried of Ascoli, piconi and ravioli.

La tua Vacanza: Castel di Lama