Grottazzolina
Corso Vittorio Emanuele II, 56-0734 631443
The first human settlements in the territory of Grottazzolina date from the eighth century BC
Towards the middle of the tenth century A.D. was later built by the monks Farfensi the castle, the first settlement of the country, they called Montebello; shortly after he came under the domination of the Canons of the Cathedral of Fermo, which changed its name to "Cave of the Canons." In 1208 Otto IV, elected emperor, granted to Azzo d'Estela March of Ancona. At his death, in 1217, ownership of the brand was confirmed by Pope Honorius III to his son Azzo VII (or Azzolino) who renamed the castle as "Cave Azzolina" that has remained unaltered.
From the fourteenth century Grottazzolina is under the rule of the city of Fermo. In 1407 a thousand infantry and 1,500 cavalry, under the command of Benedict Bishop of Montefeltro, occupied the county of Fermo to expel the Lord Ludovico Improved, nep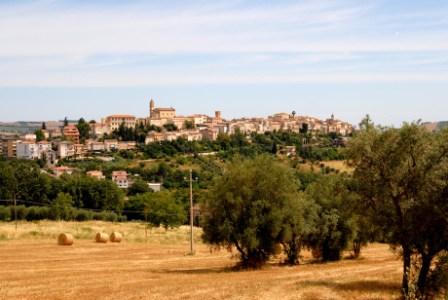 hew of Innocent VII. In 1465, after a period of relative quiet, for trivial reasons he lit a discord with the residents of Ponzano and Montegiberto. Reported to force peace by the senate stop, Grottazzolina was fortified by the Lord of Fermo Oliverotto Uffreducci, which will set up a cannon foundry one year before being made strangle Cesare Borgia.
Grottazzolina erected a free municipality:
For the first time in 1537 when Pier Luigi Farnese, by order of Pope Paul III, occupied the city of Fermo fining and stripping it of all rights. Since 1600 Grottazzolina was governed, like other 47 castles, from the town of Fermo through Podestà and Vicars. After the battle of Castelfidardo became part of the Kingdom of Italy and since December 1860, when Vittorio Emanuele II took off in Fermo province unifying it with that of Ascoli Piceno, Grottazzolina became autonomous.
Churches and castles:
Grottazzolina castle ruins of the medieval castle and town walls (XIII century). Considerable strain brick that was part of the fortified complex.
Church of St. John the Baptist displays a "Baptism of Jesus", the canvas of the seventeenth century that recalls the Pomarancio and a processional cross of the fifteenth century. For its fine stucco church is cataloged as one of National Monuments.
Church of the Blessed Sacrament there are preserved a "Dinner of the Apostles" and other frescoes by Luigi Fontana, as well as a "Virgin and Child" in polychrome wood (1612).