Treia
City of Treia
Piazza della Repubblica, 2-0733 218 705
The etymology of the name comes from chella goddess Trea-Jana, divinity of origin greek-Sicilian, who was worshiped here.
Turreted walls that evoke the thirteenth century, but also many neoclassical buildings that make Treia a village, even a town, rigorous and elegant, perched on a hill but rational in structure. The magic unfolds already in the spectacular Piazza della Repubblica, which welcomes visitors with a white railing Horseshoe and noble geometries on which lights up the color of the brick. This ocher present in all shades, in the sea of ​​green soft landscape of the Marche, is a bit 'the figure of the place. The square is framed on three sides by the building of the Academy Georgica, work of Valadier, the City Palace (XVI-XVII sec.) That houses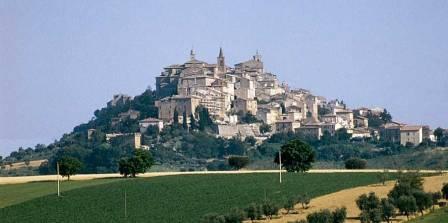 the Civic Museum and the Cathedral (XVIII sec.), One of the largest religious buildings in the region. Dedicated to the SS. Annunziata, was built to a design by Andrea Vici, a pupil of Vanvitelli, and houses several works of art including an altarpiece by Giacomo da Recanati. Under the beautiful square stands the wall of the arena, which opened in 1818 and later dedicated to ball player Charles Didim.
The "kick" of Treia
A tasty calzone dough soft baked, typical of the Easter period.
It encloses a center filled with flour, eggs, cheese, sugar and oil, making it valuable as a snack or as a dessert. It goes, in the latter case, with the famous Vernaccia di Serrapetrona. The peculiarity of the kick is the contrast between the sweet and savory pasta outside of the filling.

La tua Vacanza: Treia
Treia

Treia




Treia


Treia