Magliano di Tenna
Piazza Antonio Gramsci, 25-0734 632172
Located in the middle valley of Tenna its foundation is to be dated the year one thousand by the name of Castrum Malleani, named after its founder mercenary, all is documented in a notarial act dating back to a deed of 1293.
this village falls under the possessions Farfa and then until the fourteenth century. Under the dominance of Montegiorgio. After three years of Malatesta (1413-16) he became part of the possessions of Francesco Sforza until 1446.
Anque this small town suffered a stormy period in which he found himself at the center of struggles between factions, noble families, municipalities and after the restoration took place as for the years in the '700 in the Napoleonic period that saw the merged territories Montegiorno eventually returned under the administration of the nearby Fermo.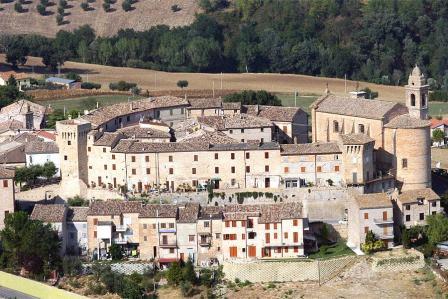 The features walls of the thirteenth century. Also here you are beautifully preserved and the door to Bora with a splendid Tower.
Central is the Church of St. Gregory the Great pievana patron saint, rebuilt in the eighteenth century. On the remains of an abbey complex farfense, here are admirable frescos attributed to Pagani.
Others are the beautiful stone churches located outside the center of different ages and all are features of these beautiful grounds, the cradle of important traditions and noble families that have marked with their wars architecture of these beautiful lands today beautifully set in a unique natural landscape, maintained and enhanced.