Carassai
City of Carassai
Piazza Matteotti, 4-0734 919 002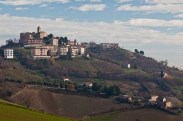 Carassai is a small and beautiful town located in the province of Ascoli Piceno in our beautiful region appreciated mainly for its many historical monuments that preserve the charm of history and time. The beautiful village of Carassai was built between the river Aso and the Menocchia and enjoys a magnificent panorama in which the protagonists are the beautiful, lush green valleys, the splendid Adriatic Sea and reaches the majestic and impressive Sibillini.
The village of Carassai is distinguished by the presence of beautiful historical monuments such as churches, monuments and many beautiful places to visit. First of all there is the beautiful and majestic castle of Rocca Monte Varmine, which is located just 4 km from the village is a historic property of great beauty and great historical richness.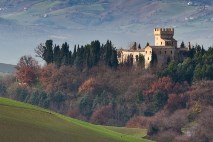 The Castle Rocca Monte Varmine is part of the wonderful castles in the Marche. With its powerful walls and still fully intact, the Castle of Monte Varmine is one of the few examples of a fortified farm of the Piceno. From the top of the fortress you can enjoy a wonderful and varied landscape consists of a unique view accompanied by the presence of trees that help to make this beautiful castle is the destination of attraction for many visitors as well as a historical landmark for countries surrounding.
Just 2km from the Castle of Monte Varmine, it stands the beautiful Church of St. Angelo in Piano composed by beautiful frescoes and to which was attached a beautiful monastery of the Benedictine monks. Inside the beautiful courtyard of the Castle is situated also the beautiful St. Peter's Church in which there was also a beautiful painting of the famous painter Vittore Crivelli, now housed in the nearby Pinacoteca di Fermo.
Of particular importance is the beautiful Church of St. Luke, located in the cemetery of Rocca Monte Varmine must visit because unique. Carassai is a place rich in history, culture and beauty .. a unique place that contributes to the unique and inimitable our magnificent region.

La tua Vacanza: Carassai
Carassai

Carassai


Carassai