Comunanza
Municipality of Comunanza
Piazza IV Novembre, 2-0736 844 253
Certainly the territory of Comunanza was already inhabited in Roman times; agglomerates that should have been made between the fifth and sixth centuries by some families stuffed distanced themselves from the capital to the continuous barbarian invasions. And the first name was just "Municipal Ascoli". Its origins are very remote and therefore are identified with those of a stronghold powerful and feared: Monte Pasillo.
At the foot of the Sibillini Mountains, where the river Aso, after a wide bend, sweetens its course and opens in a fertile valley, Comunanza has become one of the most active centers of Piceno.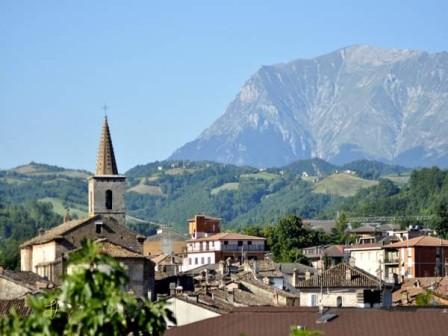 A Colle Terme there are remains of Roman baths, discovered during archaeological excavations, confirming the origin of the Roman town.
Church of St. Cateriana of Alexandria (ninth century) rebuilt at the end delXVII century neoclassical. The Romanesque bell tower of the Castrum and was part of the previous church existed on the square. The interior has stucco and statues by Domenico Paci and interesting works of local artists of the '600, such as Joseph and Pierleone Ghezzi, Antonio Mercurio Amorosi.
Church of St. Francis architecture indicates a purpose built for defensive purposes, and ecclesiastical. Romanesque, with eighteenth-century wooden altars and a beautiful fresco depicting the titular saint.
St. Anne Church (XVI century) began to make a convent, but never used it for this purpose. Romanesque, has within a stucco altar century.
Church of St. Mary in Terme (ninth century) built on the ruins of a pagan temple, in turn, the heart of the late Roman settlement of "Interamnia". Romanesque, is made of stone "exposed face".
The nearby Lake Gerosa over the hydroelectric function allows tourist aspects with fishing competitions. Near the lake is the mountain village of Pian Spruce.