Acqualagna and the Truffles
The Via Flaminia, which joins Rimini to Rome, passing through the famous Passo del Furlo, represents a unique scenario to be admired: walk along the trails that flank the imposing cliffs, the two galleries where Roman passed the ancient Via Flaminia, The Cave of the grain, the floristic protected rare species, the green waters of the river Candigliano: ideal for making quiet promenades.
Acqualagna, a village wedged in the Furlo Gorge, in the province of Pesaro and Urbino, has all the climatic and environmental characteristics that make it one of the few areas where the truffles can be harvested and marketed throughout the year, providing ample opportunity to choose between all varieties of this popular product of land from white truffle typical of the place, the bianchetto, the prized black truffle and other blacks.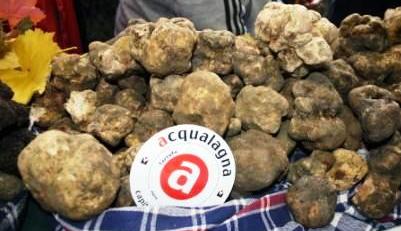 Every year, in November, there's the National White Truffle Festival, the event which launched Acqualagna in the international firmament. The event not to miss for fans, with a hundred stand for all the tourists, not just Italians, but also foreigners, especially Germans, British, Japanese and Americans. 
Acqualagna and throughout the region of Marche is split, so, a well-deserved leading role regarding the events of autumn absolutely not to miss.
Acqualagna is the only territory that has fresh truffles of all kinds, all the year.