Gagliole
City of Gagliole
Piazza Matteotti, 1-0737 641184
Capital of the municipality of the same name, the center of artistic and historical interest and scenic. Already home to a medieval castle bloodily consteso between Sanseverinati Camerinesi and preserves the original urban structure with the surrounding wall, two towers and the door on the south side dating back to the fourteenth century. Inside the castle is the Church of St. Michael the Archangel Roman-Gothic with a major portal terracotta. The town includes some picturesque apesini and two beautiful monastic churches.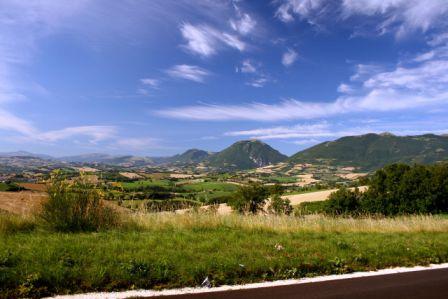 WHAT TO VISIT
Castle Gagliole (XIV century): preserves the ancient city wall with two towers and the door.
Church of St. Joseph: custudisce a polychrome wooden crucifix (XVI century) and a fresco of the sixteenth century by Andrea di Magistris.
Parish Church of St. Michael the Archangel: the Roman-Gothic, has a beautiful doorway in brick and a polychrome wooden statue of the sixteenth century, all the interiors were restored in 1976.
Aqueous (mt. 438) is a very picturesque and scenic interest.
Ancagliano (mt. 500) with the Rock of Bisaccia in a spur of the mountain, in the thick vegetation you can see the foundations of a medieval fortress.
Our Lady of Stains (mt. 427) is a hermit's church and convent, already dependence of the Parish of St. Zeno and the monastery of Domore. It 'a very old complex (XI-XII century) and very striking; There are two churches, one older with terracotta decorations and more recently with paintings of the fourteenth and fifteenth centuries.
Madonna della Pieve (XI-XII century) already old parish church of St. Zeno, had as many as 14 churches under its jurisdiction. The facade is in tuff stone, the church was restored in 1971.
Prati di Gagliole (mt. 1000) places of great landscape which offers an excellent view of all the surrounding areas (Camerino, Sibillini, Monte San Vicino, etc.)
Dell'Elce valley is a beautiful nature trail through the rugged valley covered with thick vegetation of oak, where you can visit the Cave dell'Elce and stone Pozzo.