Riviera del Conero
The Riviera del Conero  is undoubtedly one of the most fascinating and well-known in our region, but not only of  Marche, but of all Italy, in the very heart of our country there is a natural oasis where the scenario is different in shape morphological with the rest of our territory except some resemblance to the area of S. Bartolo Pesaro.
His story begins with the Landing in the fourth century. AC of the Greeks that climbing the southern shores in search of city to be founded, they found in the Conero ideal, then the Dorians threw anchor and fixed their abode, calling Komaros (strawberry tree) and the promontory Ancon (elbow) the curve of the northern Monte.
For Riviera del Conero we mean the entire coastal area that gradually descends from Portonovo to Numana through the beautiful Sirolo, but we also find Camerano, Offagna, Castelfidardo and Porto Recanati, towns also rich in art and history, not to mention Loreto .
Famous all over the world with its beautiful beaches, Sassi Blacks, San Michele, Mezzavalle, Beach Urbani, and many others, where the seabed of stones makes incredible colors of the sea that seems to want to go up the mountain Conero that literally falls in water with all its lush vegetation, unique promontory in the stretch from Trieste to Gargano. Famous landmark of migrating raptors, valuable for those who love bird watching, not infrequently the Conero Park also offers the spectacle of herons in flight or laid in staging points.
Half ideal for holidays in the Marches, the Riviera del Conero offers multiple solutions accommodation, Campings, Hotels, Farmhouses, Resort and beautiful CountryHouse embedded in this natural oasis, offering many activities of any kind during your holidays in the Marche region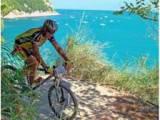 The famous Golf Club of Sirolo, or hang gliding above Portonovo are only some of the activities to be performed, but also the possibility of excursions at the many paths of the park Conero or Mountainbike, or why not, a trip on horseback maybe at night with the chance to sleep in temda accampanti by the sea, the magic of the Marches awaits.