THE LAND OF CASTLES
The Land of Castles is an ancient land between the hills that surround the city of Ancona. The area of the Land of Castles is bounded by the rivers Esino and Alto Musone and in this area are located five municipalities that are called: Agugliano, Camerata Picena, Offagna, Polverigi and Santa Maria Nuova.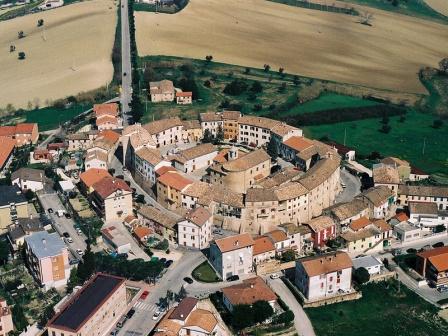 All these beautiful five  municipalities  consist of        numerous fortifications that  in    the past were intended for the    defense  and protection of the  city of  Ancona.
 This interesting area is a real nest of  nature reserves where is offer to the tourists the chance to get in touch with nature but also with the history and culture in the name of fun and well-being. There are in fact offered to who visit this area several possibilities to spend in the best way their leisure time such as sports, exhibitions, suggestive pageants and festivals of the country where visitors have the chance to savor the genuine flavors of the tradition of this area as hams, meats and cheeses typical of the beautiful countryside that make up this territory without forget one of the top wine of this area as the "Rosso Conero". So this place is a place very rich in history and traditions concentrated in the five villages that make up this magnificent area.
Although small, these five areas are places of extraordinary beauty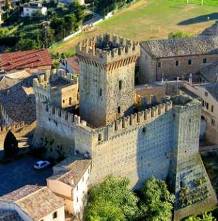 and charm where everyone rediscovers the tastes and pleasures of art and history, flavors that are often forgotten and that are remembered in this suggestive territory for example through the Fortress of Offagna, one of the most beautiful towns of our country, the wonderful walls of Camerata Picena or by the genuine handicrafts typical of the centre of Agugliano without forgetting the magnificent landscapes thanks to the beauty of the hills that surrounding this Land. The Land of Castles offers to the tourist many opportunities to enjoy in the best way his experience as a friendly welcome enriched with quality facilities such as restaurants, hotels and farms; cultural activities thanks also to the presence of numerous museums full of valuable evidence of the past; places rich in history as the Roman archaeological remains present in Polverigi and Santa Maria Nuova; sports facilities located in the various municipalities and unique throughout the Marche region as the Golf on the water of Camerata Picena, the Motocross of Agugliano and Pattinodromo of Santa Maria Nuova in which tourist can experience even more enjoyable his visit. There are also offered to the tourist parks as the river park of Esino between Agugliano and Camerata Picena, a place of extraordinary well-being in which the visitor has the opportunity to relax and enjoy the pleasures of unspoilt nature.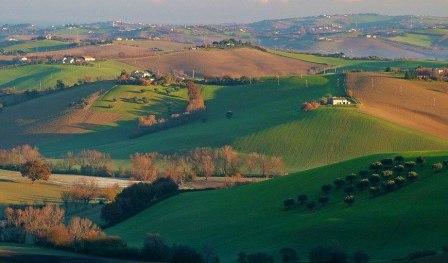 Walking through the  streets  of  this medieval  villages full  of  charm and  quality every    tourist  discovers the beauty of  a  land  so  prosperous    in history, culture  and  beauty,  territory that  thanks to its heritage helps to make even more unique this  magnificent region.